Joe Commer from The Martian Marauders, or, Wiping the Blackboard Clean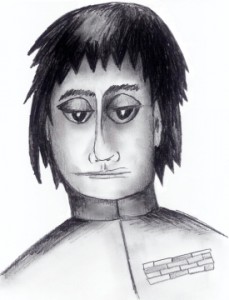 Marooned on dead planet Earth, writhing in fever dreams, Joe is dying from the aftereffects of a Martian ice ray along with his brother Jack. From The Martian Marauders:
FORGET THAT! FORGET THAT! IT'S BEEN SCIENTIFICALLY PROVEN THAT JACK COMMER FELL APART AND FAILED MISERABLY! COMMER IS IN FACT A TRAITOR TO THE HUMAN RACE! THAT'S CORRECT, A TREASONABLE TRAITOR! WE SHALL NEVER FEEL SORRY FOR HIM OR HIS BROTHER!
Huey? Huey damn VESPERTINE? But then again, that's just like you with your total, cynical CRAP! You weren't there, after all, what do you know? Jack never snapped! It was just that he was way overstressed by the whole day before Mercury! Doesn't anyone understand the pressures that go with command responsibility?
JACK COMMER FAILED TO UNDERSTAND HIMSELF. FAILED TO HANDLE THE PRESSURES. HIS BROTHER JOE JOINS HIM IN TOTAL, IRREDEEMABLE DEFEAT.
We're not dead yet, you jerk! We're both still breathing, both still here–this ice isn't such a big deal, Jack and I can handle it!
YES, EVEN AS HE WAITS FOR THE END JOE COMMER UNDERSTANDS THAT THE ICE IS SOMEHOW A PRESERVING FORCE. FOR INSTANCE, EVEN THOUGH HE HASN'T BEEN ABLE TO MOVE TO GET FOOD OUT OF THE ESCAPE CRAFT SINCE DAY TWO, JOE FEELS NO HUNGER AT ALL. HE FEELS NO URGE TO URINATE OR DEFECATE, HE FEELS NEITHER COLD NOR HOT, IN FACT, HE FEELS NO BODILY DISCOMFORT AT ALL.
Oh, so it's the end, now, Huey, is it? Are you gonna preside over my death now? Get outa my head! I tried to be your friend, I tried to make things right, even after you and Jack fell out, even after he said he never wanted to see you again–
ONE HAS TO ASSUME THAT IT'S THE SAME FOR JACK. JACK COMMER MIGHT BE IN A COMA, BUT HE MUST BE DYING PEACEFULLY, AS JOE IS. THE MARTIAN ICE RAY GUARANTEES A SLOW DEATH, BUT LET'S JUST SAY IT HAS PROVIDED SOME ADVANTAGES.
Yeah, name one, you jerk! And bring back General Scott! HE knows what's going on!
THIS IS SCOTT. PROBABLY THE BIGGEST ADVANTAGE IS THAT JOE GETS TO LIE RIGHT HERE AND THINK, JUST THINK, FOR DAYS! THINK ABOUT HIS ENTIRE LIFE. HOW MANY PEOPLE ARE EVER GIVEN THREE DAYS AT THE END OF THEIR LIVES TO JUST THINK? SURE, IT'S FRUSTRATING NOT TO BE ABLE TO MOVE, BUT WHAT DOES THAT MATTER? ISN'T EVERYTHING FOR THE MIND?
Well … well, sir, I'd say … well, if you put it that way, I guess I agree, sir …
JOE COMMER GETS TO REVIEW EVERYTHING, AND ISN'T IT OBVIOUS THAT WHEN HE FINALLY FINISHES REVIEWING IT ALL, HE'LL SHUT DOWN? AND WON'T THAT BE ALL RIGHT? IN FACT, WON'T IT BE FUN TO SHUT EVERYTHING DOWN, ONCE HE'S REVIEWED EVERYTHING? ONCE HE BECOMES A COMPLETE HUMAN BEING FOR THE FIRST TIME IN HIS LIFE?
Wow … wow … yes, sir, I'll get right on it, sir! The review! The review of everything, sir! And may I just say in parting, sir, that it's been a honor serving under you, sir?
THIS IS T. JASPER MARKTHOLOMEW, CUTTING TO THE CHASE! THERE WILL BE NO SUCH CALM APPRAISAL OF JOE COMMER'S WORTHLESS LITTLE LIFE! HASN'T MR. COMMER BEEN EVEN A LITTLE SUSPICIOUS ABOUT THE ORIGIN OF THESE HALLUCINATORY DREAMS? FOOL! DOESN'T HE KNOW THAT THEY'RE SIMPLY A CLEANSING AGENT? THAT THEY'RE HERE TO WIPE JOE COMMER'S BLACKBOARD CLEAN? JOE'S OWN PRECIOUS BLACKBOARD WITH HIS OWN PRIVATE SET OF PSYCHO-PHYSICAL EQUATIONS, THE EQUATIONS THAT HAVE DEFINED HIS LITTLE LIFE? THE FEVER DREAMS WIPE ALL THAT CLEAN!
No, no, bring back Scott, I liked what he was saying, that was MY OWN LIFE we were talking about, after all!
THE HUEY VESPERTINE REPORT CONTINUES! THE ESSENTIAL EQUATIONS HAVE ALWAYS REVOLVED AROUND THE PEOPLE IN JOE'S LIFE, AND WHETHER OR NOT HE'S SCREWED THEM OVER!
Aw, crap, Huey, you oughta talk, you turned your back on the USSF, on–hell, on the whole human race!
CONSIDER THE TANGLED THICKET OF ENERGIES RELATING TO THE FOUR COMMER BROTHERS AND THEIR FATHER! IT PROBABLY CAN'T BE NAVIGATED BEFORE SYSTEM SHUTDOWN! FOR WE SUSPECT IT ALL GOES TOO DEEP TO BE DEALT WITH IN THIS LIFETIME. PERHAPS IN A COMING LIFETIME JOE WILL DEAL WITH–
I don't believe this! Don't give me this coming lifetimes crap!
THE NEED FOR COMING LIFETIMES COMES FROM THE TANGLED DESTINIES THAT DEMAND RESOLUTION, NO MATTER HOW MANY EONS IT TAKES. CONSIDER THE WOMEN JOE COMMER OWES SO MUCH TO, AND ALL OF WHOM HE'S WRONGED ONE WAY OR ANOTHER. DID HE REALLY COME UNGLUED DURING THE HORRORS OF THE FINAL WAR AND THE EVACUATION? THE LAST SIX WOMEN CAME DURING THAT TIME, AFTER ALL. DID THEY SOMEHOW RELATE TO THE BREAKDOWN OF HUMAN EXISTENCE? HUMANITY ITSELF HAVING ITS BLACKBOARD WIPED CLEAN?
THIS IS GENERAL JOHN J. DOUGLAS, THE ALIEN HUNTER, TAKING OVER THIS LINE OF INQUIRY!
Oh, no!
OH, YES, YAH BAHSTAD! AS I HAPPEN TO BE AN EXPERT ON THESE MATTERS, IT'S MY DUTY TO INFORM YOU OF YOUR SERIOUS SEXUAL TRANSGRESSIONS!
Me? You're accusing me–?
YES, CERTAINLY, JOE! YOU DON'T MIND IF I CALL YOU JOE, DO YOU, JOE? BECAUSE WE MIGHT AS WELL GET UP CLOSE AND PERSONAL IF WE'RE GOING TO DISCUSS THE SHAME OF YOUR SEXUALITY!
Shame–? Of–? You jerk! Get out of my head! You're just a fever dream!
Copyright 2014 by Michael D. Smith
More about the Jack Commer, Supreme Commander series
The first book in the series, The Martian Marauders, is available in eBook and paperback format from Double Dragon Publishing, Amazon, Barnes and Noble, and other online retailers.