The World's First Nuclear-Powered Dinosaur, by Mickey Smith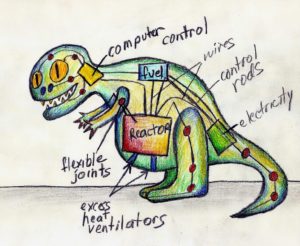 I'm not sure why my fifth-grade self chose to channel in this morning, but I awoke with this title and I knew I had to write this down. I had no idea what this would be about beyond the first couple paragraphs, but it was as if Mr. Fifth Grade guided the plot from then on. The story comes complete with fifth-grade memes, including the mention of an exact date and an exact city, a few spelling errors even where I knew better, and a quick happy ending. Then Mike asked Mickey to illustrate the beast in question as he so often did for his stories.
Chapter 1. Plans
Billy Thorsen knew that kids called him a twisted gernius, but he didn't know what that meant, and he hated to use the dictionary so he didn't.
What was important was his science project for Mr. Marshall's science class. If he could get it to work, then it would be the world's first nucleaar dinosauer.
Getting the uranium to power it was no problem, since his dad was a spy and had been stealing enrichhed uranium from the Iranians for years now. So Billy was actually helping his country at the same time.
He worked and he worked on his plans and soon he was done.
Chapter 2. The Monster Revealed
It was still dark when Billy went into the back yard right before dawn on Saturday, April 11 at 5:12 AM, and he pulled the big blanket (actually twenty blankets he sewed together in secret) off the Tyrannosaurus Rex which stood thirty feet high. Then Billy pressed the remote control switch which would activate the monster.
Chapter 3. The Destriction of Des Moines, Iowa
Soon the lumbering beast made its way across the town until it came to downtown Des Moines, Iowa. Someone had told Billy there was a new spaceport there but it was nowhere to be found, so the T. Rex, unable to figure out what to do next, stomped on buildings, cars, buses, trains and people until the entire city was in flames. Then it stalked out to find the spaceport.
Chapter 4. At the Spaceport
Billy knew that he needed to find his dinosaur so he figured it would go the spaceport like Billy had wanted him to. But he went so fast that he forgot his remote control.
Soon at the spaceport you could see millions of U.S. jets blasting the beast with bombs. The government did not want a nuckleat-powered dinosaur stealing their best ship, which was supposed to go to Mars today.
Billy found the monster eating an entire hanger full of U.S. jets and people screaming everywhere. He told the dinosaur to stop but the monster just laughed and said, "I AM GOING TO MARS."
Chapter 5. On to Mars!
The men on the ship quickly got off once they saw a sixty foot Tyrannosaurus Rex climbing up the side of their ship. The monster had to wreck the whole inside of the control room to get enough space.
Then it fell asleep. This gave Billy time to go home and get his remote control.
But it was too late! The ship launchecd right on time with a giant Tyrannosaurs Rez at the controls!
Chapter 6. Into the Sun!
Billy had a radio attached to his remote control and he tried to talk sense into the scaly beast but the monster did not listen. Finally Billy said: "There's not enough power on that ship to go to Mars! It will fall into the sun!"
At this the monster got afraid. "I will fall into the sun?" it asked anxiouassly.
"Yes, unless you use the nuclaar reactor inside you to power the ship!"
Chapter 7. Landing on Mars
The monster used his NULCARR RECATOR to power the ship. Soon the ship came to Mars and landed. The Tyrannosaurs Rex got out and liked what he saw. Little did he know that he had really saved the human race because he showed how to get to Mars.
When thousands of Earth people came to Mars the next day in a fleet of spaceships, they knew they had to be grateful to the dinosaur for showing them how to do it. They made a huge park for the monster to live in and they elected Billy president of Mars.
The End
copyright 2020 by Michael D. Smith