A Terrible New Enemy – Review of The Wounded Frontier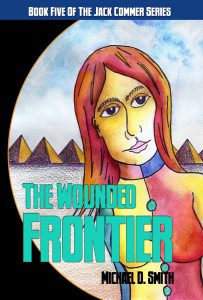 After the collapse of the Grid, the vast collective mind of the Alpha Centaurians, humans and Martians in the United System Space Force now find themselves included in a new Grid, one they are told is completely voluntary, but who believes that? This book begins with Jack Commer and his crew embroiled in the nasty climate of resistance and hostility that accompanies widespread change. Called out for their dark histories, vilified and threatened by haters and the establishment, the crew escapes with their lives as they attempt to embark on an important mission to investigate an anomaly in a distant but familiar star system.
Following is the sort of mayhem at which this author excels: bickering, confusion, shock as everything that can go wrong, does, complete with crashing, exploding and vanishing ships, domestic disputes, and questionable solutions, all hanging under the shadow of a vast, unassailable sphere that no one understands. Add in a couple of ancient but expertly retrofitted human robots in the form of Draka Sortie, the suspiciously appointed President of the United System Council; and Jack's most talented engineer, Laurie Lachrer, and things get even worse, bringing to bear the author's penchant for smug, obnoxious villains you love to hate.
These books have a great, campy 70s scifi vibe — but without the cheesy special effects: the high tech is well done, sophisticated and interesting. The robots do an alarming amount of damage before the crew figures out what's going on, and by then it's too late. Now under the control of an alien race called the Wounded that devours star systems for the energy rush, our heroes must find a way to outsmart the Wounded's robotic henchmen before the demise of both the Sol and Alpha Centaurian star systems. The conclusion, characteristically wild and unexpected, involves some fallen companions and a mythical dimension where space warriors go after death, no less, making for yet another fun read.
by F. T. McKinstry, author of the Chronicles of Ealiron series
The Wounded Frontier, Book Five of the Jack Commer Series – Background