Why Did I Publish Sortmind?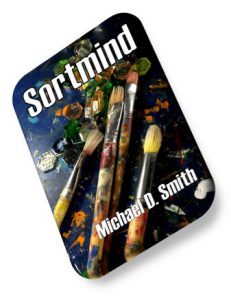 Trantor Group CEO Peter Trantor scrambles to reassure his latest client, the lovely but unreadable bank executive Anna Winstead, that his telepathic Sortmind app really isn't as deadly as people assume. But he has some explaining to do when a newly-hired programmer at Trantor, Mindwiped by Sortmind abuse, proclaims himself an alien from the planet Cnzaar.
Given that I think this novel is so good, why did I publish it myself and not consider submitting it to royalty publishers?
Sortmind is the last of my older novels that needed reboot and psychic repair; many of these stretched back decades to my first powerful but unformed urges for fiction, and this completion/destiny/fate mood runs through all the other reasons below. As I indicated in Sortmind's first blog post, this final version has definitely answered some karma, and made the older effort current and central to my writing. Its publication marks the end of a cycle beginning in November 2006, not a little marked by anxiety, of reassessing the entirety of my writing career, my methods, and my goals.
So it was time to put the novel out there, and I wasn't going to wait for years of submissions and publishers' schedules. Call that impatience, but it just had to happen this way. Somehow February 2019 was the perfect time to release the book.
There is also the idea that anything related to tech should come out fast, or else it will be out of date by the time a normal publication schedule can process it. The tech in Sortmind isn't highly detailed, nor is it anything approaching hard science fiction, but still I wouldn't want to end up putting the novel back on the operating table and addressing technical issues in say, 2024.
During the 1990's I'd sent dozens of query letters to publishers for Sortmind's original version; I was just not going to fool with it again. There remains the concept of submitting this novel or any self-published work to publishers someday, but right now, I have no interest.
The urge for "total artistic control" has asserted itself throughout the entire reboot of Sortmind–the new plot, the redeveloped characters, the final manuscript, the cover.
Now there's a new relation of Sortmind the novel to the Sortmind the website, Sortmind the blog, and Sortmind Press. When the idea came to me in July 1999 to register the sortmind.com domain, I hadn't exactly abandoned the novel, but it was on indefinite hold; I just liked the syllables so much that I wanted them for the website. When I began building the site I had no thought of doing much more than having a page for the novel and some character images. Despite an earnest but cosmetic 2010 revamp, the novel soon sank deeper into the ice of neglect even as I began a Sortmind blog and Sortmind Press.
I can agree that it looks a little silly to have Sortmind the novel published by Sortmind Press and hawked on sortmind.com, blog.sortmind.com, and press.sortmind.com, but this too feels like destiny/karma. Sure, Sortmind Press is a bit problematic; while I'm not sure I'll ever expand it into a real publishing house, I now have four novels and a picture book for sale there.
To add to the confusion we have the 1988 painting Sortmind, executed while I was running hot on the first draft, confidently churning through its ever-expansive 1,075 pages.
copyright 2019 by Michael D. Smith
Sortmind the Novel – More Information
Mass market paperback from lulu.com