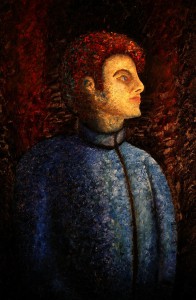 Jack Commer, the Official Portrait overpaints a despised pencil image. I'd entered the original October 2006 drawing, "Jack Commer, Supreme Commander, United System Space Force, ca. Summer 2036," into a "Superheroes" art contest in Denison, Texas that fall and I've regretted it since. This is where I learned that I don't do contests. Art and writing are not contests!
I've wanted to obliterate that drawing for many years. It represented the worst impulses of the Summer Art Career and a long time ago I deleted it from sortmind.com in shame. It's too yucky even to show as a "before" picture. Though I wanted Jack to appear regal, he comes off looking as if he just woke up and threw on the nearest filthy torn bathrobe he could find, all the while holding his chin high like an arrogant son of a bitch. While two by three feet is a good size for an official oil portrait, it was too large for the pencil drawing, which came off as thoroughly pretentious.
Having said that, I do admit that in using some of the drawing as the basis for the oil painting I decided to follow through on the farcical aspects of official oil portraits, portraying Jack as a USSF-commissioned artist in the spring of 2036 might have, in celebration of Jack's eventual victory in the war against the Alpha Centaurians. So somehow this painting rewrites the nasty contest bombasticality of 2006. It also supplies us with a tradition-encrusted art object which we can picture Jack's defiant son Jonathan James theatrically obliterating with a heat blaster, as he does at the beginning of Book Six, Commer of the Rebellion.
I'm pleased with the result, though this isn't necessarily the kind of painting I want to continue doing. But the lessons of the laid-back Jack Commer images in pencil, pastel, and watercolor helped a great deal in executing this one. Oil paint on the original drawing's deep cradle claybord allowed me to slam out the texture on an unyielding surface instead of the usual bouncing canvas.
This is probably enough in the way of Jack Commer images for a while. I seem to have come to the end of Commer series characters I want to draw. There's a large number of them on sortmind.com and it's time to move on to other projects.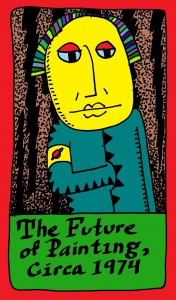 In my last semester at Rice, when I was mucking through my first huge and unwieldy abstract paintings, I idly wondered where painting might go in the future. Since we-the-culture had already seemed to exhaust all the possibilities of painting by then, up to and including displaying completely blank canvases as "art," the only thing I could think of was that in the impossibly distant realm of the 1990's we'd be painting large portraits of people in the style of German Expressionism, but somehow more futuristically. The Future of Painting Circa 1974 Tarot Card takes a mocking shot at this upcoming but by now past due trend.
copyright 2015 by Michael D. Smith
Jack Commer images on sortmind.com