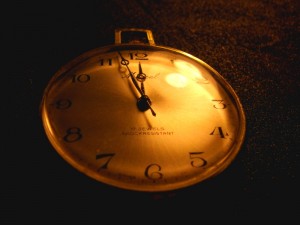 Consider that the top of the hour is the same everywhere: 10:00 AM in Dallas, 4:00 PM in London, 11:00 PM in Beijing, 12:00 AM tomorrow in Tokyo …
There may be some renegade time zone somewhere whose inhabitants insist that it's really x:45 at the above times, but the fact is that the clock hits the top of the hour simultaneously all over the world.
And so it must be that billions of people have someone they need to meet, somewhere they need to be, something that must be completed, some obligation to fulfill, some ordeal to endure, some pleasure to look forward to, at the top of each hour.
In other words, there are billions of human psychic collisions taking place every time :59 gives way to :00.
So when someone comes up to you at 11:53 AM demanding extra snappy service because she's on a tight schedule (and you're thinking, yeah, me too, lady, I have lunch in seven minutes and your hassle is probably going to wreck everything), you probably shouldn't remind her that she needs to get in line as there are 3,233,844,208 people who ALSO, at this exact moment, have something dire coming up at the top of the hour. It will just increase her stress to realize that not only is she not Number One, but also that the entire planet is reeling with the shared anxiety of hitting the target of Whatever Seems to Be a Matter of Life and Death at :00.
Characters in novels rarely seem to exhibit this time concern. Sometimes they do have to watch the clock to catch a plane or defuse a time bomb, but all that is just the demands of the plot. In most cases the characters seem to have infinite amounts of time as they go about acting out the events of the story, and for that matter they don't seem to worry much about their bank account, their car's transmission, or their hissing, water-wasting toilet unless for some reason those concerns form part of the plot. A novelist has to filter out these details for the sake of getting a sane number of pages written, but might want to consider that, as does any other person on Earth, these characters have a thousand mini-crises running through their heads every day–and way too many of them are coming together at the top of the hour.
Copyright 2014 by Michael D. Smith