Urside Charmouth's Dented Painting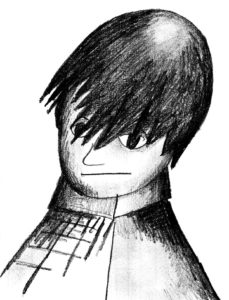 Feckless young Urside Charmouth, heedless experimenter with Heuristic Time Transition, is horrified by the revelations from the future, fearing that he's ruined the cosmic timeline with his drug-like time travel romps.  He then wastes the universe's final HTT revisiting his high school graduation night, only to slingshot into his own distant future.
From Nonprofit Chronowar, Book Three of the Jack Commer, Supreme Commander series:
Urside plunged down a long dim hallway but found himself at a dead end. A simple white door to his left. He opened it, the meager hall light falling into a large dark space. Must be the garage. Wonder what kinds of cars these rich old farts have. He reached inside to flip a switch.
Light blasted the space from dozens of floodlights along all the walls. Unmistakably an artist's studio, thirty feet by thirty feet, ten feet high, with two large abstracts underway on easels. Dozens of paintings on the walls, bright color everywhere. A large flat file with ten drawers, the expensive kind Urside had always wanted for storing drawings. Two waist-high workbenches crowded with jars of paint, brushes, drawing paper, and colored pencils.
"Wow …" Urside muttered. He came up to the larger of the two paintings in progress.
This one was at least five by eight feet, in fact it was so large it seemed to chop the studio in half. It was layers and layers of cascading blue ocean, with shards of half-buried orange, red and purple. Damn, this is just like that dream I had about doing a giant messy blue painting. No real shapes in it, just tones. I've never really dared to let the canvas just be a mass of tone. Wow, this is a cool direction.
The other painting was four by five feet, mostly white space with a few jagged abstract primary colors falling from the upper light to the lower left. Along the walls were similar tonal experiments, in all sizes. Atop the flat file lay spiral-bound journals fattened with watercolors. A couple lay open to broadcast more abstract energies.
Urside perused one of the journals, feeling only slightly guilty. Look, I've got a right to be interested in this artist, I'm a fellow artist appreciating another artist's work.
Besides, I'm out of phase with all these people, with the owners or the house, with whoever this artist is. So I can look. The artist would want me to.
He was surprised to see rigorous pencil sketches of nudes in the journal as well as abstract color. The nudes, both men and women, were glorious, rough but with excellent volume and proportions. The artist obviously wasn't aiming at perfection, but he was solidly hitting the subject. The white spaces around the nudes were the same as the white spaces in the abstract works.
Urside's own abstracts were boring and muddy. There really was no energy to them, and Urside had seriously considered giving it all up. Like that stupid abstract graphic novel I started in January. Hell, I only did five sketches! It was as silly as that idea I had in high school about writing a whole novel about a trip to the gas station!
The few good paintings Urside had done seemed to come at random. He'd start a blank canvas hoping to improvise until he hit some abstract passion–but hours later he'd find himself numbly staring at some messy travesty. He had no control over the energy. Last November he'd finally gotten so angry at a two by three-foot painting that he overpainted it in napthol crimson, a transparent blood red. But the effect was powerful. Drowned in the cleansing red ocean, insipid blue rectangles became floating murky purple hulks, with streaks of yellow-orange straining to break to the surface. And Angry Consciousness 51 became the passion Urside needed. It hung over his bed at the Cat Farm and every day he saluted it as the kind of work he was on this planet to do.
Urside glanced up and short-circuited. Then laughed. God, he'd been thinking about Angry Consciousness 51 and he could have sworn he saw it hanging above one of the dark blue workbenches! That shows you what memories can do! Superimpose the old image on–
But something like Angry Consciousness 51 really was hanging on the wall over the workbench! Odd, another red two by three-foot painting that reminded him of–
No! It IS my painting! Jesus God, it can't be! It's my goddamn painting! Urside stared at Angry Consciousness 51 for a full minute without thinking. He moved to the workbench like an astronaut approaching an alien artifact.
Somehow Angry Consciousness 51 had wound up here, in this artist's studio!
Urside couldn't think. He examined the artifact. It was definitely Angry Consciousness 51. But he was shocked to see white gouges on the painted black sides of the canvas. There were scratches and dents along the bottom. The acrylic texture was clotted with dust.
Urside stood back. The entire canvas looked old. Urside had given a painting to a friend years ago and when he'd visited him in February he'd noted how beat up the painting was. "Well, I've moved about six times since you gave it to me," John had said, then grilled him for restoration advice Urside knew nothing about.
No more of his paintings in here. He must just have gotten rid of that one, his best one. At least it had an honored place here. He loved the colors in this studio, the bright light. In fact, if he ever got the brains together to build a real studio for himself, it would be like this.
Dozens of photographs hung on the walls. Many were close-ups of objects on tables, paperweights or plastic soldiers or puppets. Some were holographs, some printed on paper. Sunshine or high wattage artificial light bathed the objects.
Christ, here was a picture of Urside as an old coot! A damn old coot with a crooked smile on his face! Sitting on a high stool in this studio!
Urside scanned the studio again, eyes latching onto object after object after object.
The crimson Fokker Triplane I built in the ninth grade! Last time I remember that was high school! Had it in my room! How the hell can it be here now?
The black pot with green stripes I made at the Cat Farm when Ben was teaching me how to use the potter's wheel! The stupid thing was lopsided, it was a goddamn mess–
The white cube clock I got for Christmas my first year at Northwestern, the one I stared at for twelve hours, freaking out on Jerry's dope–
The photo I took of the Cat Farm staff in November 2018!
Urside swallowed. If … if he knew himself … if he had always known that he would keep writing, for the rest of his life, in journals he'd started in January 2013 as a senior in high school … then there would be a writing journal …
On the workbench. A spiral notebook, this one with pages in a rainbow of colors. Paper. Not a computer, not a laptop. Urside picked it up, saw the notecard halfway through the journal, the same kind of notecard that always marked the last passage in his journals. Urside numbered his journals, and he was up to number 8. Opening to the first page, he wondered if …
Journal #83. September 4, 2074.
In his own handwriting. The same multiplicity of colored pens Urside always used. He was pleased to note that the handwriting was firm and legible, although he couldn't make himself understand the simple English words on the paper.
Copyright 2019 by Michael D. Smith