A New Portrait of Jonathan James Commer
Jonathan James is Jack Commer's insolent, troubled son, the author of the bestselling Alpha Centaurian novel, A Fragmented Encyclopedia of Recent Self. He was also briefly Emperor of the Alpha Centaurians, later leader of a rebellion against the SolGrid surveillance system, and eventually a Wounded robot dedicated to the destruction of the entire Milky Way.
From The SolGrid Rebellion, Book Six of the Jack Commer, Supreme Commander series:
Tall, skinny JJC gave the impression of being frail until you noticed those powerful biceps and forearms. He sat with the women to either side, Jackie on his left and Suzette to his right.
The bastard thought he understood women so well. Maybe that came from frying his brains on being AC Emperor, with trillions of Alpha Centaurian females running amok in his mind, worshipping him. In any case the ladies sure flocked to him. A lot of people had underestimated JJC, Pat thought sourly. Including himself.
Pat set his wine down and tried to ignore Trotter slurping at a bowl of water. "Okay, guys, look, anyone can see there's something up here."
Forks momentarily halted. JJC looked up with a smile. "Something–up here?"
"C'mon, anyone can see something's going on here. You call this dinner, you say it's the last time we can get together, and–so what's the deal?"
JJC grinned. "Why don't you just dip into your little SolGrid and find out?"
"C'mon, you know damn well that's not how it works." Any idiot knew that if the others weren't participating in the Grid, Pat wouldn't find any information unless he happened upon some other person privy to whatever JJC's knew. "So you call this dinner–"
"I didn't call any dinner. I invited my friends here because I wanted their company. I'm not some hotshot corporate president who calls dinners."
Pat blinked at the insult. Okay, so he'd called a few dinners here himself as SolGrid president. But the others weren't SolGrid, just Pat and Sanders. Jackie had her own projects to attend to and had never shown any interest in the company, and Suzette had her own complicated life running between her husband back on Mars and her new lover Jonathan James. Jonathan James and his damn telepathic dog!
"Okay, okay," Pat said, "I just wanted to say I know your little secret and it's damn stupid if you ask me and I can't believe it of any of you."
The others were silent. Pat had a moment of satisfaction seeing JJC blink, but Jonathan James took a sip of his golden wine and recovered. He turned to the numerous other tables in the restaurant and assessed the noise level. Pat followed his gaze to the windows, to the icy mountains beyond the small buildings of New Houston's main street. Above it all loomed all the giant yellow sphere of Saturn undergoing reconstruction by the Martians.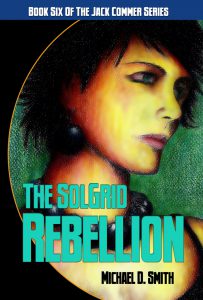 JJC turned back. "I'm surprised, Patio. I really didn't think SolGrid could pick that up if we were Dark."
"Grr … uff!" Trotter put in with a hint of warning.
Pat winced. He kept forgetting that the dog understood every word they said. He was also thoroughly tired of JJC's irritating nicknaming habit. How things had changed between them since the first dinner Pat last December! He and Sanders had been deep into creating SolGrid when Jack Commer's son showed up asking for an interview. Hirte had maintained that JJC might have some insight into the software, but Pat had protested that everyone knew that the twenty-eight-year-old had burned his brains out screwing with the fascist Alpha Centaurian Grid last year. But since JJC was his old friend Jack's son, Pat reluctantly agreed they could take some time out and invite the kid to dinner.
Two things surprised Pat at that first dinner. First, instead of applying for a job, JJC pleaded with Pat to scrap all plans for SolGrid, but seeing that Pat wasn't budging from his fresh United System contract to build just such an application, Jonathan James then began a campaign to introduce safeguards to guard against any Alpha Centaurian-style brainwashing. Pat wound up promising a dozen add-ons which he always found excuses never to implement. There was just no time with the threat of the Wounded.
The second revelation was even more astounding. It was painfully obvious that both Jackie and Hirte's girlfriend Suzette were smitten with the young man. Jackie was almost seventy-six but rejuvenated to mid-thirties, and she was drooling. Pat's own girlfriend, drooling for this brain-damaged fool! And Suzette Borman, forty-two but never rejuvenated, looking so hard and used up by life that she scared Pat, was giggling and swatting JJC's thigh and hanging onto his shoulder. Lee Borman's wife, who'd been having an affair with Sanders Hirte for God knew how long.
Pat had recoiled in disgust at JJC's charisma. It was an unruly and much more powerful version of his father's leadership charm, and over the next few months Pat had gotten more than enough of it shoved down his throat. But before long JJC was somehow part of the SolGrid group, even though he was passionately devoted to dismantling it.
"Look, it's been obvious something's been up for a while. This opposition to SolGrid you have. And now somehow you've brainwashed everyone else into it."
JJC narrowed his eyes. "Let's not use that term if you don't mind, Mr. Patster."
Copyright 2019 by Michael D. Smith