CommWealth – The Ensemble Cast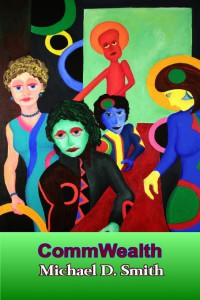 I've always thought of the characters in CommWealth as an ensemble cast in a movie, where accomplished actors divide the plot between them and no one actor has the lead role.  I didn't intend this approach from the beginning, but as the novel progressed I saw that distributing the focus between six major actors, each with reasons for hiding his or her deepest self, made the story flow easily.  The ensemble concept is apt for this novel, in which these characters form the core of the Forensic Squad theatrical troupe.  The Cup of Fog coffeehouse in the fictional coastal Texas town of Linstar is their home base and forms the stage upon which the forces of the novel collide.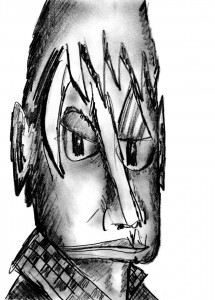 The insanity of the six-month-old CommWealth system, in which all private property has been outlawed and citizens are required to share everything, finds its expression in our lead-off batter Allan Larson as he glibly procures electronics and a Porsche in the first scene.  Allan is a narcissistic playwright and actor who forces Forensic Squad to stage his mediocre play Cabaret.  Supercilious, clueless, and manipulative, he's claimed a mansion in Linstar Heights, surrounding himself with expensive cars and gadgets.  He both needs friends and is quick to betray them.  As a writer he thinks he should express his buried truths, but he's too fearful to find out what they really are, and when crime tempts him, he sees it as just another avenue to fulfilling his needs.  He considers himself too creative to be bothered making backup copies of his writing, and it's only by luck that he gets a digital copy of Cabaret back after his laptop is claimed by another citizen along with all his wide screen TVs, sports cars, and motorcycles.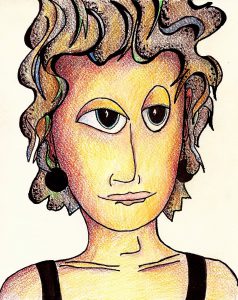 Lisa Arlington is a professional actress who managed to escape a disastrous affair with Allan a few months ago and is just now exploring a return to Forensic Squad.  A gorgeous, sexy woman, an heiress whose family was one of the original founders of Linstar, Lisa finds to her horror that Allan can request her body and have exclusive use of it for the standard CommWealth "thirty days of enjoyment."  She draws upon her outstanding actress skills to fake it with Allan for a whole month, but as her behavior becomes increasingly bizarre, all wonder whether she's finally surrendered to madness.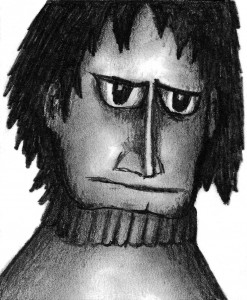 Richard Stapke owns Richard's Bicycle Repair, struggling to maintain his business amid the growing economic and social disaster of CommWealth.  He's immensely charismatic, creative, and unconsciously seductive, and Cup of Fog co-owner Jill Constantine, damaged and looking for salvation, easily succumbs to him, hating herself as she does so.  Richard had never thought about acting and was surprised to find himself enjoying hanging around theater people.  He got hooked the same way Jill and her husband Steve had‑‑outsiders who'd been cajoled into accepting tiny parts as favors to their actor friends, then railroaded into larger and more demanding roles.  Yet Richard's interest in acting comes from having hidden decades of writing and photography, passions which eventually detonate at Forensic Squad's first rehearsal of Cabaret.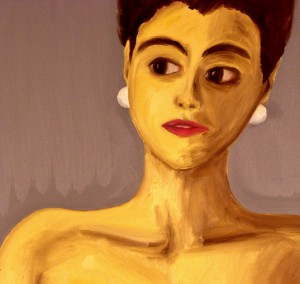 Erica Thora, Richard's beautiful model girlfriend, initially seems to be a two-dimensional background figure, especially when Allan, tired of the apparently brainwashed Lisa, begins cataloging his lust for the physical attributes of the exceptional six-foot beauty, with her short dark hair, thick kissable lips, and deep brown eyes.  Yet Allan is shocked to find out that the buxom, wasp-waisted model is really thirty-seven, six years his senior, and mature and decisive in ways that terrify Allan and in fact are unknown to her own boyfriend Richard.  Erica's father, a policeman, had taught her how to shoot everything from hunting rifles to semi-automatic weapons, and it's her courage and practical insight that finally challenge the folly of CommWealth.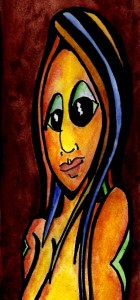 Jill Sheridan Constantine owns the Cup of Fog coffee shop with her husband Steve, and though not an actress, she's the force behind Forensic Squad, providing its home and keeping the group together.  Though she's been zealous about hosting artists and actors at the Cup and sponsoring discussions that skirt the edge of treason, her role conceals darker dealings with the powerful bureaucrats of CommWealth.  She and Steve have been married two years, yet they are strangers to each other.  Jill has always been afraid and unsure, and in succumbing to Richard's advances, her motivations aren't physical but stem from thwarted nervous energy.  She finally realizes how badly she's diminished herself by accepting Richard's brand of sexual transcendence.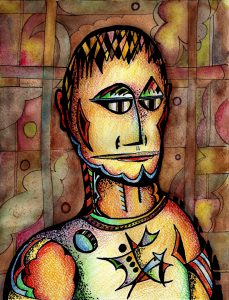 Steve Constantine, co-owner of The Cup of Fog coffee shop, is competent and resourceful.  Tall and vibrantly physical, with prematurely receding blond hair, he's knowledgeable about carpentry and mechanical repair and does anything necessary to keep the Cup of Fog running as best it can under the dysfunctional CommWealth system; in fact he's studied every nuance of the CommWealth legal code.  He's not an actor but functions as an efficient manager for Forensic Squad.  He's comfortable with his inner self, though he's been hiding it in a similar way as does Erica and, in fact, every member of the theatrical troupe.  Allan considers Steve to be a saint who never gets upset, but he's horrified when Steve apparently goes crazy, arming himself with outrageously illegal weapons and dragging Allan into an impossible revolution against CommWealth.
CommWealth is published by Class Act Books and is available from the publisher, from Amazon, and from Barnes and Noble.
copyright 2016 by Michael D. Smith