Free Soul Institute! Free Twenty Steps! Through July 31
The eBook versions of my flagship literary novel The Soul Institute and my science fiction novella The First Twenty Steps can be had for free from Smashwords through the end of July.
Himal Steina realizes his dream of a mythic return to the sanctuary of a vast foggy university of Soul when he's appointed writer in residence at the Soul Institute and falls in love with one of its numerous faculty goddesses. But the Soul Institute is splintering under its unhinged Director Alfred Moid Burlcron and his secret society of Overcrons, and as his teenage son consolidates command of the Paint Sniffing Gang, panic and violence build in the small coastal Texas college town.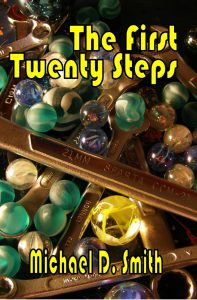 Just released from six years in prison, unsure how to meet basic needs, Harry finds a kindred spirit in Roberta, in thrall to a depraved motorcycle gang. But the passive-aggressive leader of the Cerberean Knights leads them into a major crime this evening as he seeks to pay back favors from the corrupt city council of One-West. As the motorcycle attack on the Dataflux computer building turns terrifying and surreal, Harry and Roberta find themselves outgunned by another biker gang belonging to a mysterious billionaire who intervenes to protect his secret hyperspatial supercomputer.
Paperbacks?
If you'd rather have paperback copies, which alas aren't free, try these links:
More Background
copyright 2017 by Michael D. Smith