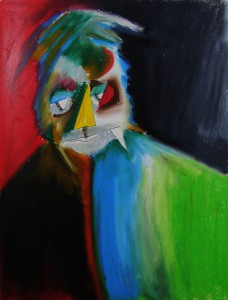 Although Moolka Waxtor's romance with Derrick Dexter is central to The Soul Institute, Himal Steina, the bombastic new writer in residence who's inexplicably appointed to the secret ruling council of Overcrons, develops an obsession for this eighteen-dimensional goddess, eventually getting much more than he'd bargained for. But first we see him jousting with the charismatic and slightly deranged Alfred Moid Burlcron, Director of the Soul Institute, who later guarantees that Himal can marry Moolka. From the novel:
Alfred Moid Burlcron motioned the newcomer to a large armchair in front of his desk. "Come on in and have a seat."
"Well … uh … thanks." Himal Steina uneasily took the chair as if strapping himself into the cockpit of a jet fighter. He was a powerful little bear, with burly arms and torso, woolly hair, and a puffy unshaven face. Burlcron found himself taking an instant dislike to this man, tempered by a fascination that anyone could let himself be so small and bearlike.
"So you really did drive down here in one day," Burlcron said, taking his seat behind his desk and tapping his Himal Steina folder.
"Uh, yes, sir," Steina said, shifting his thick legs in his armchair.
"In a race car, no less, as I hear it."
"Uh … a race car …?"
"I'm joking, of course. You'd mentioned to my secretary that you'd be driving a Porsche down here in one day. I told her you would need a race car for that."
"Oh … right … when I called the other day and you weren't in … well, don't get me wrong, sir! I wasn't trying to impress your secretary, sir! In fact, the Porsche is really a piece of … of junk, you know. It's a 928 S4, but it's an '89, got it real cheap … the previous owner rolled it and really abused the engine …"
"Hmm …" Burlcron said, suppressing the urge to write interviewee nervous on his Himal Steina folder. After all, this wasn't an interview. The man already had the job.
"And … the transmission's a mess. The clutch slips, fifth is nonexistent, if you know what I mean … the car's really nothing but dents … which of course I expect to have fixed as soon as possible …"
"Yes, yes, I'm quite sure …" Burlcron murmured. Now he did write car problems on the folder, and then: Salary? Did we discuss that?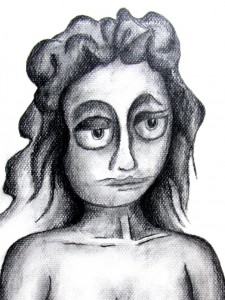 Moolka Waxtor, writer in residence and sister to director Burlcron's wife Debbie, is Derrick's cousin and his anima. She's also chosen as the Healer Overcron so that she can assist in the mystical, drug-addled rituals of TSI's administrative staff, much to Derrick's later dismay. From The Soul Institute:
But Derrick didn't care about Moolka's replacement. He was transfixed by her overwrought round face. For so long she'd cultivated this image of herself as mindlessly simple, absorbed in her sunny creativity. No, she was complex and unhappy. Derrick went to her, daring another sideways hug, appropriate for their public personae. "We'll … send email … or … or something …" was all he could think so say, hoping to recall to her the power of the closet. But to his dismay her mouth and eyes crumbled into uncontrollable sobbing, and she was fully in his arms.
"She's … just a little upset," Derrick said. "She'll be all right."
"We'll really miss you, Moolka," Greg McKinnon put in.
"She's so sad," someone said.
"But …" Moolka said from Derrick's arms, turning to the crowd. "I'm so confused … but … I have an announcement of my own to make …"
Derrick drew back from her in shock, sure she was about to describe the closet in life-shattering detail. But he gasped in relief as she went on:
"I just wanted to tell you all how much I've appreciated your party, and … your love for me … which I can never forget. It's just that I … I don't want to, like, piss anyone off, but …" She paused for a long time, crying.
"You couldn't piss off anyone for any reason!" her sister Debbie laughed. "Go ahead, Moolka!"
"It's just that … just that this party … well, we should have it for another reason, maybe … not my going away …"
"But we want to give you this special party, child," Burlcron said in his most charming, officious manner. "After all, you were practically one of the founders of TSI."
"No … because … I've made up my mind … not to take the WCC job."
Silence.
"You …" Burlcron began.
"I've made up my mind. Maybe it's not right to try to go back to paradise. Maybe I have paradise … right here … among all these people who love me." Crying. Not meeting Derrick's eyes.
"Jesus God …" Fannin Richardson said, rudely but honestly expressing everyone's consternation.
copyright 2016 by Michael D. Smith
TSI – Amazon Kindle eBook
TSI – Amazon paperback
TSI – Barnes and Noble EPUB
TSI – Smashwords in numerous e-formats
TSI – Background