Mandy Frederick, Empress of the Martians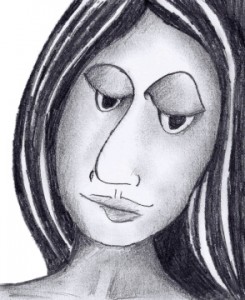 The Wounded Frontier, Book Five of the Jack Commer, Supreme Commander science fiction series, has been accepted for publication by Double Dragon Publishing. Since she first appeared in Book Three, 2013's  Nonprofit Chronowar, Mandy has progressed far from her original position as secretary to a Texas plastic surgeon.
From The Wounded Frontier:

Now Empress Mandy stood up from her Supercommittee seat as if to challenge anyone to question her right to name her husband Council President. She wore a tight emerald Empress robe and Laurie was startled to note, as Mandy stood in the backlight of powerful yellow globes, that the robe was fully transparent, outlining her slender nude torso and her long naked muscular legs. Laurie heard a gasp from Senator Borman down the line as everyone in the room realized that Empress Mandy was giving everyone in the chamber the dark suggestive outlines of nipples, belly button, and pubis.
Okay, so Mandy was shockingly lovely even in her mid-seventies. She was a petite brown-eyed beauty with a delicate heart-shaped face, rejuvenated to look anywhere between twenty-five and forty. She could see why Draka might have simply followed a command to marry her. Mandy was another one of those where rejuvenation had taken so well that there wasn't a line on her face. Yet the light surging through that transparent robe signaled thousands of years of Martian maturity.
Laurie had had little contact with Mandy Frederick over the years, but considered her funny, dazzling, and super sharp, her outradiance a controlled fusion of aesthetics, philosophy, politics, and hard-won experience. And while everyone knew she was a full Martian, somehow her human beauty made you forget about the inner Empress warrior goddess–to your peril. Mandy's current radiance was like lava spewing from what everyone had supposed was a dormant volcano.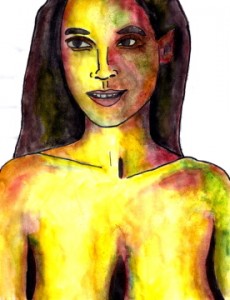 The humans shrank back. Even the Martians radiated unease at her disdain to control her own outradiance. Untoward feelings and images exploded in everyone's lap whether they wanted them or not.
The Great Erotic J'thath that had taken place the moment Draka arrived at the Empress' quarters two hours ago–the full consummation of the marriage of Empress and Consort–
To be sure, any J'thath anywhere on Mars was theoretically open to anyone's perusal, but that was mere information as opposed to–as opposed to–
Actually BEING there and FEELING it! EVERYTHING! Oh my God!
Laurie could feel the Chamber reeling with twenty solid minutes of raw Empress/Consort copulation. Somehow packed into that flow was also a graphic display of every encounter with every lover Mandy had ever taken in her life. Meanwhile Mandy stood with folded arms pushing her transparent breasts high, knowing that everyone had no choice but to accept and feel everything, and she consolidated even more power over them all. The simple question, controversial up to a second ago, of whether a human being could even be consort to a Martian Empress was simply washed away in the lava flow. Draka himself gained power from her power–as well as from, Laurie guessed ruefully, his expert performance in bed with her.
Thank God we're not getting HIS mental outradiance!
Copyright 2014 by Michael D. Smith
More about the Jack Commer, Supreme Commander series