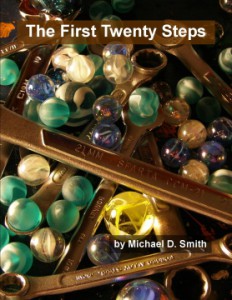 The First Twenty Steps
a novella by Michael D. Smith
available as an eBook for $1.00
from barnesandnoble.com
Placing this novella for sale on Barnes and Noble's PubIt site is an experiment.  I want to see how e-publishing works and I regard this short work as one of my best plots.  I'm not intending to self-publish all my novels in this manner, but I do want to put this contribution out there and see what happens.  I want to experiment with e-publishing formats and processes, and to offer some sample work.
And since the PubIt site asks me to name my "publishing house," why naturally I settled on Sortmind Publishing.
The First Twenty Steps is 25,730 words, 96 pages in Word, and 60 pages on the Nook or the free "Nook for PC" app.  (Nook owners will recognize that there are a lot more than 60 screens of text.)  The novella is not available in print (yet!) but that's the whole point of PubIt, which offers only eBooks.
Harry, the novella's hero, is an ex-convict, just released from prison in the afternoon, who later that night finds himself mixed up with a motorcycle gang's plan to steal a supercomputer from the dreaded Dataflux building.  He finds a kindred spirit in Roberta, who's in thrall to the gang's passive-aggressive tyrant, Alexander.  Falling in love, Harry decides he must help her by infiltrating himself into the gang and eventually escaping with her.  But when Alexander announces that the gang will commit a major crime this evening to pay back favors from the corrupt city council, Harry realizes that their plan was doomed all along, that he and Roberta have compromised themselves by their contact with Alexander's evil.  And then the motorcycle attack on the Dataflux computer building turns terrifying and surreal … Continue reading →