Rhys of Earth by Kara D. Wilson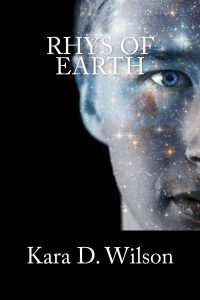 In Rhys of Earth, the first volume of The Falkrow Narratives, the teenaged engineer Rhys and his younger sister Alina flee the destruction of their deep space colony spaceship to find themselves marooned on an Earth abandoned by modern humans centuries ago.  The planet has long since devolved to a state that might correspond to a mix of our Medieval and pre-Industrial eras, though there are pockets of more advanced technology here and there.  Finding themselves quickly choosing sides in an ongoing war, the two youths must navigate lingual, cultural, technological, and religious clashes, all of which the author navigates with well-considered, imaginative ease.  The coming of age story of the teenagers and the delineation of this alternate Earth bring out the author's excellent storytelling skills.  Though describing the religious and philosophical underpinnings of a complex society, the author keeps the book accessible to the reader, with well-drawn characters and a plot that moves effortlessly from one significant development to another.  The author has a gift for unexpected plot turns, yet every scene further defines the depth of the characters.  Events seem "fated," anchored in psychic depth and moving towards a grasp of basic human truths; nothing is merely manipulated for effect.
The character of Vinz, Overseer of the ship Themis to which Rhys and Alina attach themselves, is a fascinating study in bright and dark impulses, in lofty vision obstructed by obstinate impracticality.  Vinz is a mixture of confident wisdom and reckless impulses that frequently bring his courageous mission of peace to the brink of disaster.  It's Vinz that Rhys must eventually understand, accept, and surmount as he emerges from catastrophe primed for adulthood and the unfolding of his own purpose, inherited from Vinz but strengthened by new perspective, by tragedy and loss.
I'd previously reviewed the two books of the author's first series, The Aurora Chronicles, marveling at the author's felicity in fashioning her stories.  While both these books are very well done, it's exciting to experience the quantum leap in novel creation evident in Rhys of Earth as the author continues her explorations into civilization and the psyche.
Rhys of Quadrant Six, the second book in The Falkrow Narratives, is now available and I'm looking forward to finishing it, as I accidentally got through its first thirty pages before I realized I needed to start with Book One.  But while I recommend starting in the correct order, I can attest that even in the first thirty pages of Book Two I found myself encountering a well-constructed world of rich characters and suspense.  Thus Book Two could easily be a standalone novel.  But as I say, start with Book One!
Rhys of Earth at Amazon  |  Rhys of Quadrant Six at Amazon
review by Michael D. Smith