Shackism v. Sortmind, Part One
Shackism: In the moment, flexible, aware, expectant. Creative disorder. Making pottery in a little shack at the side of an empty desert highway. Hit or miss power.
Sortmind: Deep intuition, synthesizing, order, explanations, philosophy, indexing. In harmonious contact with all aspects of existence. High power levels.
Two modes of consciousness collide in Sortmind when Edward Duce, urban terrorist and founder of the Open Telepathy Foundation, invades teenage artist Oliver's apartment.
"You blew up the library? And–and all of downtown now?"
"Hey, I don't buy guilt trips, Ollie. It's just not me. Besides, you're in this too. You're now the executive officer of a terrorist organization."
"But … I'm primarily an artist …"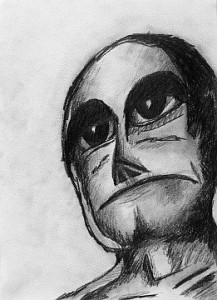 "Don't you think I'm not primarily an artist, too? Piss on it! And your salad sucks." He leaned back to address the circles of oil lamp light on the ceiling. "Shit on this Sortmind. I'm losing access. You ask it a question–it screws up!"
"You … must've Mindwiped!"
"Not me, baby. Listen, man–we outfit you with a subscription when things die down. You and me, man–we'll be invincible. Sorta like a Zen thing. Nobody'll know where we're coming from. This house'll be like a meditation garden or something. We'll call ourselves the Knights of Nothingness. And we're plugged into Sortmind, knowing everything, or nothing, depending on your Zen quotient."
"Well, I don't know if I'd be any good. I mean, I really hate that sort of thing. I still have flashbacks on the CTT trip, which was pure Sortmind."
"That's a bullshit attitude, Oliver. Change it immediately. How can we be the Knights of Nothingness if you're such a pill? What's wrong with goddamn telepathy?"
"Well … like the whole idea of having everything in the universe accessible like that, everything cross-indexed, and … I don't know. I hate searching stuff. It's so boring. I mean, there's no room for creativity, I guess." Oliver reddened. His meager opinions were so inarticulate in the face of Duce's eloquence!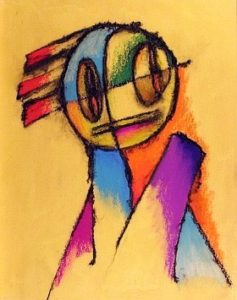 "That's shitass shit. You're afraid of a cross-indexed universe? That's what mankind's been aiming for since Day One. You ever download the Sortmind program itself? Man, that thing's like a million DNA molecules all joined up. It's mindboggling! It's like God! And I know a trick or two about God, 'cause I was a minister. You gotta appreciate the whole universe, and it's damn complicated, so you better get used to it."
"But my approach has just been to … I mean, I don't know if there really should be any sort of overarching philosophy. I know some people seem to need that, but I have this image, I guess, of how I work best." Oliver waved at his paintings. "It's like I'm just waiting by the side of the road, in this little shack, and things come along. I just work on things as they come, just one at a time. Like … like in a little shack, making pottery or whatever … waiting for things to come along …"
"Yeah, we'll call your philosophy Shackism," Duce sneered. "Well, lemme tell you, boy, it sucks! Shackism can't ever compare to God! And your salad sucks, too! Tastes like puke! Gemme some real food, man!"
Oliver will require a long walk and another half hour to shake off his denial about his best friend's death, and he'll return to deliver a verdict to Mr. Duce.
copyright 2019 by Michael D. Smith