Shackism v. Sortmind, Part Two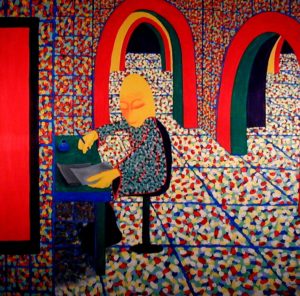 No reader can possibly be prepared for this blog author to include a snippet from a June 26, 1971 letter to my friend Sabin Russell. I didn't realize at the time how important this paragraph would be in my life. It comments on a philosophy paper Sabin wrote at Yale, and refers to my just-completed story "Prom":
My thought: In a short story I try to make a little aspect of life with which I am familiar clear, like the absurdity of falling in love with a teeny-bopper. But I can't try to explain life because I'm not familiar with all of it. So I just work at every little aspect that comes along. That is art, "little-aspect-philosophy." Big Philosophy tries to explain the world, and fails.
So my teen self really is the child father to the man. Here's a take on it from eleven years later, 1982's unpublishable novel Zarreich: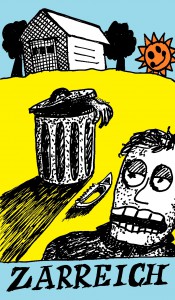 He stopped in front of a small wooden shack at the side of the road. There was no other structure near this place. The shack was more of a roadside display stand, it was open on the side facing the road, and a sort of primitive counter ran across the width of the shack. All the wood was black and rotting‑‑the carpentry of the thing hadn't been precise even when this shack was new, Jim saw‑‑the counter, the walls, the roof, all were haphazardly measured and constructed. There was no sign on the place, but Jim had the feeling that it was some sort of foreign arts and crafts booth. He searched through the eighteen‑inch‑high layer of mud that swept up against the sides of the shack and ran through the tiny interior, and saw several pieces of pottery embedded in the soft brown mud. Brown pottery with black patterns in the brown mud in the black shack. Just then Jim saw a hand with three large rings on it.
His first dead body. Part of the forearm was visible‑‑a hairy man's arm‑‑but the rest was buried. There was hardly enough space in the shack for the body to fit, Jim thought, but somehow this guy had managed it. A foreign craftsman. The rings were gold‑framed with stones of turquoise, crimson, and pale yellow. The place smelled of pungent clay. Jim stepped back from the shack, watching, feeling the sunlight fall all over the rotted sides and light up the soft mud. Some dragonflies hovered over pools of water, their dual blue wings shining. The brightness of the sun felt good on Jim's eyes.
Jim loved this place. He began to think that the shack was a source of power for him. He had been drawn here, he had magically been stopped in front of it, he had admired the pots, he had found his attention focused on the hand with the rings. Superstitiously, Jim now wondered if he wasn't seeing his own death‑‑that he had traveled through some sort of time warp to visit the scene of his drowning by mud some day in the future. Because certainly Jim might one day be a pottery craftsman with a shack on the outskirts of the city. It was certainly possible, and if so, this would be how he would go out. In the flashflood. After all, to be feeling this much power coursing through him could only mean that some sort of perspective on his own death was at hand. Besides, Jim was dreaming and all sorts of things were possible in dreams: time‑travel, one's own death, shacks like this …
Jim turned to take in the whole wide desert. Recently washed by the flood, it was rapidly drying out again in the sun. A field of cactus stretched towards a series of mountains in the west. It was morning, his perceptions were totally new; he would have started running if the street weren't so muddy. And he thought: now how did I know that this is all a dream? How do I know that? Is it the unbelievably intense beauty? Is it this power and death feeling? Is it some quality of my own thinking?
What does this all have to do with 2019?  More later.
copyright 2019 by Michael D. Smith