Some Secondary Sortmind Characters
Barbie Malroux, Canterra Art Institute cheerleader and architecture student
Witness his miserable entanglement with that girl in math. He groaned to consider his downfall here. The girl was everything he always said he despised. First of all, her name was Barbie. God, what a sickening name. Secondly, she really didn't belong at the Art Institute. She wasn't any sort of artist, but her parents evidently wanted her at CAI. He'd seen some of her rigid, childish drawings tacked to the walls of the commons, and was ashamed of himself for even knowing that kind of girl. Apparently she claimed to have pretensions of being an architect, but after seeing those drawings Sam knew she'd never make it. There was zero creativity there.
Thirdly, Barbie was a cheerleader. If there was anything that Sam had railed against in his four years at CAI, it was the existence of the football program and the mindless cheerleaders, with their airline stewardess smiles and their boundless chirping energy. They were allowed to wear their purple and white uniforms to class. One day he'd been outraged to see Barbie's pom-poms stashed under her chair.
The problem was that Barbie, with her long red hair and her small-breasted, slender, five-foot, two-inch body, with her freckled nose and sparkling blue eyes, sat next to him in three of his classes and was the cutest female he could imagine. Conversations were now required at the beginning and end of each class. Barbie looked up at him with those bright eyes and smiled at everything he had to say, including his wisecracks about cheerleaders, now subtly toned down so as not to offend while still allowing him to express his disapproval of everything she was.
Randall Perrine, Oliver's father and co-founder of Citizens Against Telepathy
Randy Perrine was short, angular, and tense, with overly large ears jutting from crewcut russet hair going gray. He hunched over papers on the desk, jabbing them with a bony finger, apparently unaware that his rigid jaw was half an inch from ramming into the desk microphone.
Perrine jerked up from his reading, deep-set gray eyes putting the entire room under surveillance, and he struck Sam as being a paranoid monkey in a business suit, ready to spring up and dance a simian jig on the Council dais, waving an AK-47 and screeching gibberish curses. Sam fought to keep from laughing out loud at this image. He could definitely save it for a short story. "Paranoid Field Marshal Monkey with an AK-47" already started plotting in his mind.
Edward Duce, founder of the Open Telepathy Foundation
Duce leaned to the microphone. "Greetings, Madame Mayor and honored members of the Canterra City Council. I formed the Open Telepathy Foundation last October for the express purpose of combating the regimented insanity of Citizens Against Telepathy here in Canterra. As a minister, I can assert that the Sortmind app is our last best chance of establishing true communion among the peoples of this world. The Trantor Group has inadvertently opened up human consciousness through this app. As such, Sortmind belongs to the people. It should be free, and unlimited. We understand that Mindwipe and Bleedthrough are minor problems to be solved. In this we stand with complete solidarity with Mr. Trantor and his company."
"You pretend to be this peace-loving, happy-ass organization, but all your demonstrations turn into riots," Toland shot back. "Your buddy Plill here has been arrested a dozen times for inciting violence!"
"Charges are always dropped, because they can't prove a thing!" Plill sneered.
"And it's only because Perrine's brownshirts wade in with clubs," Duce added.
"There are no brownshirts! You repeatedly use that irrational term!" Randy Perrine shouted from the right table.
"Why, then, any term you like! Fascists who disrupt our spiritual rallies!"
Teresa Emersonn, Mitchell Emerson's daughter, Canterra Art Institute student, artist
Sam's bratty little sister had been fixed in his mind as permanently nine years old. He'd only seen her once or twice all last semester, but then she'd shown up in pottery class in January, all grown up. Oliver had been deeply shocked. And bratty Teresa was playing games with him–openly coming on to him!
At first he'd assumed she was trying to irritate him as she always used to. But he began to see in growing horror that Teresa was flirting. She made sure she always sat next to him at the pottery tables, talking to him nonstop, her odd green eyes drilling into him until he finally had to meet them for a scary second. One day in early February Teresa had joked about how crude boys were never to send Valentines, and Oliver finally got it through his head that she was asking him to send her a Valentine.
Barbara Emersonn, Mitchell Emerson's ex-wife
Randy's fantasy unrolled of my ex-wife in a yellow dress at a hypothetical CAT picnic in the forest around the Grafton estate–except there were no OTF demonstrators within 200 miles. Barbara was a dues-paying member of CAT, so that jibed–and I remembered the yellow dress. But in the fantasy, Barb bravely joked away her cares as Randy wisely saw through this façade and came forward with special comforting in the wake of the divorce. His conception of Barbara's betrayal at the hands of the insufferable Mitch Emersonn was ludicrously off the mark, but all Randy could see was her elegant figure, her short fluffy dark hair, her deep gray eyes and her delicate face. While I might have suspected normal male curiosity on his part, in all the years of our friendship I'd never suspected this intensity of attraction. But Randy wasn't seeing the neurotic, manipulative little girl. He wasn't seeing the woman who fought at every turn to keep from knowing herself, who struggled to make everyone around her participate in this game of not knowing. Instead he saw an energetic, mature, and giving sexual partner. He had no idea of her capacities for using sex as a tool of her own darkness, or as a weapon. And when he took her alone into his fantasy meadow and stripped off that yellow dress–
My two searches–for I'd replayed the fantasy twice–came to $6,385.98, and I had a fresh headache along with new insight into Randy Perrine.
Manfred Pierce, Deputy Director of City of Canterra Information Services
The guy seemed to have come straight out of a men's fashion magazine: the hard-jawed, cruel career man who worked ninety hours a week at his IT administrator job, then spent an additional twenty hours a week at the health club, building biceps and pecs into glistening mountains of power, then cruised Faraday Avenue twenty more hours a week in his SlashMaster ZX-450, checking out the bars and singles action, topping it all off with an additional thirty hours a week ramming his eternally hard self into a dozen devoted young career women.
The mayor had planted the bastard on them. Of course the idiot didn't have a clue about telepathic programming, not that he didn't think from Day One that he knew how to charm the Bleedthrough into submission. But he had instincts for what was important, and Peter was wasting more and more time making up useless tasks to keep him busy. Just yesterday Pierce had been asking about the Telepathic Kernel. They definitely couldn't let him screw with that.
Elise Perrine, Oliver's younger sister, poet
Of course, telling her father she wanted to go to CAI involved answering his obvious question: "So what kind of art do you think you're going to do there?" It had been worse than she'd feared. She could still see the derisive twist of his cheek when she'd finally gotten out "poetry."
"My own daughter, writing poetry? God, Elise! Every kid at CAI is an OTF sympathizer. They all just write pure OTF propaganda. You'll end up doing the same. I should never have allowed Oliver to go there. It's ruining him."
But CAI students had some of the highest standardized test scores in the country, Elise had countered, while Carl Canterra and the entire C.I.S.D. were nationally known for their mediocrity. She knew these arguments had swayed him on Oliver's decision to attend CAI. He'd finally consented after she promised to write thoughtful, philosophical, rational poetry, and in April she'd consulted Mr. Fitzhugh, an English teacher who was the advisor to the CAI literary magazine, the Pencilkiss.
It didn't take her five minutes with Al Fitzhugh to realize he was hardcore OTF. Why did everyone think she was naïve? Why did everyone compare her to Oliver? Oliver could fight with Daddy, but Elise wasn't ever supposed to. Oliver could say things in city council meetings that sounded like total OTF and get away with it. And he was the Best Senior Artist and would have that one-man show, and everyone said he was a genius. But Oliver hadn't seen through Mr. Fitzhugh, and Elise had.
Donald Roseparker, Vice-President for Software, the Trantor Group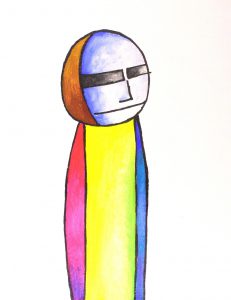 "Hey, Peter, I've been trying to message ya! Why'd ya cut me off?" Peter looked away from Roseparker's eager green eyes behind thick black glasses. He always hated looking up to the six-four Roseparker.
"We're having a problem here with your darling new programmer," Peter spat. "By any chance did you see Security coming up here?"
"Security?" Roseparker said. Then he eyed Starck lying across the armchair. "Yeah, I guess we need 'em. Sorry this messed up, man. But I've patched the hack and we're okay now."
"You–patched the what?"
"Yeah, someone hacked the HR database and somehow a request for a janitor 1D got upgraded to a 6A Programmer, and then this dude showed up. Weird, huh?"
K'han, Siamese cat and Tree Leopard
"RIARRROWWLLL!" K'han's cry instantly stopped Sam's whimpering and chilled us all.
"Dammit, my amnesia ray won't work!" Shelley's complaining.
The blue ray does damage to the human central nervous system. I'll make Sam forget all this much more easily.
Sam sat on the floor and closed his eyes.
"But I still want to remember," I said.
Of course you'll remember. You're a Tree Leopard.
"I can't believe I'm talking to a cat!"
"I can't either!" Shelley said. "But I know it's coming from you! Dammit, can a cat be an alien? Are you the other aliens on this planet?"
I got the mental equivalent of a shrug from K'han. It came to me that K'han was a normal cat, male, only ten months old.
"What about Sam?" I said. "I've gotta make sure he's okay."
He'll be all right. He'll forget all of this. Your blue ray is actually a dangerous thing, Ms. Bosworth. It just locks the horror in a closet for a while. We don't need that sort of forgetfulness, but to be grounded in the earth itself. I've done this for Sam.
Shelley looks at Sam on the floor for a long time. "Yeah, wonderful," she says bitterly. "Of course, we can't know that. We can't be grounded in this stupid planet."
Yes, you Cnzaarians blew up your own world, didn't you? Too bad. Sorry. Lots of snarling and fighting, mixed with a certain amount of what you call "advanced technology." Cnzaar is asteroids now. Too bad.
Shelley backed away from the small cat. "You–can't know that!"
I most certainly can.
"Well–well–if you do, then–can't you see why we want to help this planet?"
The beautiful vicious Siamese that had shredded my arms earlier tonight exchanged what could only have been a sardonic glance with me.
Copyright 2019 by Michael D. Smith