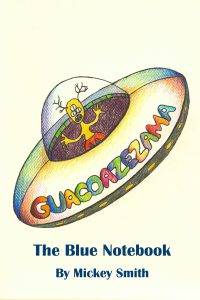 I've already written about The Blue Notebook, my fifth grade stories that channeled fascinating new energy and began defining me as a writer. Recently I was compelled by author's karma to make an eBook out of The Blue Notebook, and the saucer from Guacoazezama, one of mankind's most bitter enemies, was the perfect choice for the cover. How could I have foreseen in the fifth grade that one day I'd read these stories on my phone? One of them, "Monsterville, USA," has reverberated for a long time, and I also used it as the title of a chapter in the ancient 1976 first draft of Akard Drearstone, only now it was insurance agents and record company executives, not dinosaurs, who were monsters.
As I was researching the notebook's thirty-four stories for more of the wondrous kid planet and star names like Zorex and Ramaolousiono, which I wanted to include in my catalog of Alpha Centaurian Empire stars, I was again struck by the glorious and happy stupidity of "Monsterville, USA," which effectively married my obsessive science fiction and dinosaur themes, and, incidentally, invented a form of firing squad I seriously doubt anyone else has ever come up with. There is also (very briefly) a female heroine, totally unusual for a fifth grade boy SF writer. So here's the story, cleaned for spelling but otherwise the full unexpurgated version, the seventh of my infamous "Frightening Experiences" series; somehow even in the fifth grade I knew a series would sell.
Case 7 of Frightening Experiences
by M. Smith
MONSTERVILLE, U.S.A.
Chapter I
The Force Dome
At 3:30 P.M. Ralph Johnston, U.S. army and four others were in Ohio doing research.
In a big field Johnston shouted, "I saw something flash! Let's go investigate."
"Okay."
Soon the five were very close to the flash. It was just over a hill. Johnston looked over first. There he saw a big round yellow force dome. It was not transparent so they could not see what was inside.
But then Johnston said, "We'd better investigate, boys. It could be aliens from Venus."
"Okay."
So they five went up to the dome and found out it was made of a very hard plastic.
"Boys, get me that dynamite," Johnston said. "We're going to find out what's inside the dome."
Chapter II
Penetration
Johnston inserted the dynamite under the force field and began to get the other four men back into a safe place. Johnston wired the dynamite and began to pace off. Soon he was in the shelter gripping the detonator in his hands. Then the countdown began 30-29-28-27-26-25-24-23-22-21-20-19-18-17-16-15-14-13-12-11-10-9-8-7-6-5-4-3-2-1- "Push!" Johnston pushed down on the detonator. In 3 1/2 seconds a loud BOOM was heard. The smoke stayed around the place for 5 minutes. When they looked in, they all stared in horror.
Chapter III
Monsterville, U.S.A.
Inside the force dome were monsters. A whole town of them. And the five men proved them all to be Tyrannosaurus Rex. There was no other kind of dinosaur there.
Then the five looked at the surrounding city. It was all future-like, that we will have by the year 2000 A.D.
Then another surprise awaited them. The monsters were not from Earth, but from a planet called Zelextra. Then Johnston walked up to one of the monsters and examined it. Surprisingly enough the monster actually said "Hands off, you Earthling fool!" It did not sound right. All the monsters talked in this croaking manner.
Then a guard monster, that was guarding a palace, came up and seized the five and took them inside the palace!
Chapter IV
Monster Attack
The Monster led the five men to a chamber in the palace. Then a secret door opened and the monster leader stepped out! You would have expected him to be another monster, but he wasn't. He was a Zelextra leader. Then the alien sat down on a huge ruby throne and commanded the others to sit down. The five did. Then the alien roared, "You puny Earthling! Why did you trespass and come into our great city?"
"We wanted to see what was inside," said Johnston firmly.
"BAH!" the leader roared. "Gils, send them to the death wall at once!"
Soon all five were lined up against a brick wall. They expected it to be a firing squad, but it wasn't.
Five husky, big monsters came at them!
Chapter V
Charge
Part I
Johnston and his fellow four fought the ropes to get away. Just as the monsters closed in on them, all five broke away at the same time.
But they could not get out of MONSTERVILLE because all the exits were sealed.
Part II
A group of six thousand men were out looking for the five.
When they saw the yellow dome, they blasted their way in. They found the five and began to war the monsters, using hand grenades and guns.
Chapter VI
Defeat
The monsters fought back, using their savage jaws, chewing up the men. It began to rain, but still the battle was on. A few bolts of lightning cut down the foe, but the monsters fought on.
At 8:31 half of the men were dead. The original 5 were all dead except Johnston.
At 8:32 all the men were dead except Jane Solar, June Turner, Bob Larsen, and Jim Jones. Johnston had been killed also. The other four had been captured and taken to the palace prison.
Chapter VII
Second Try
Inside MONSTERVILLE prison were 600 cells. The four, Jane, June, Bob, and Jim were thrust into cell 519. It was cold and dark.
And that night after supper Jane and June had been talking. June said to Jim and Bob, "If we want to escape, we can use my death-radiation ring. We four will wear neutralizers so we will not be affected by the radiation."
So that same night the four broke out of cell 519. Then, using June's death ring they killed all the guards except one. This one swallowed Jane and June in one gulp! And it had also eaten the death-ring!
Then Jim and Bob got away from it, and contacted the U.S. Army by walkie-talkie. Soon another war had started.
Chapter VIII
Success
The army had two ways of defeating the monsters. They are:
1. Just use tanks, grenades, guns
2. Blow MONSTERVILLE sky-high
At the same time they did both. At 4:30 when the battle began the army put Jim and Bob on the job to put a bomb in the palace.
After 3 hours of trying they got they finally got the bomb in place.
They ran out quickly to the shelter and started the countdown. 10—-9—-8—-7—-6—-5—-4—-3—-2—-1—-…………………
BOOM!
But the alien had escaped. He started for his teleport machine.
But just as he got there Jim took out a death-ray and killed the last survivor of
MONSTERVILLE,
U.S.A.
Chapter IX
Conclusion
Now before I end this story there are a couple things to be cleared up. One, when I mentioned Ohio in the start, I meant Columbus Ohio.
Two, the aliens from Zelextra do not have rockets or flying saucers. They use teleport machines.
The End
by Mickey Smith
copyright 2018 by Michael D. Smith