Corporal Rappol McBoerland, Date of Death June 15, 2034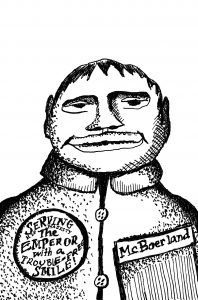 Yellow light flooded the cell. Before them stood an obese man in gray uniform, his nametag reading McBoerland–Service Level 3. He also had a round green pin: Serving His Majesty the Emperor With a Trouble-Free Smile!
But McBoerland's expression was anything but trouble-free as he jerked a set of keys off his flab, blearily puzzled about which he might want to use, and stuck one into a metal box in front of Jack. As the lock clicked open Jack felt the immense electrical current shut off.
"Don't even think about arguing with this here shattergun," McBoerland said wearily as he raised his little alien weapon. "I been up all night with a damn cold, I don't need this crap. I'm sick and I hate this. I got the okay to shatter ya both if ya try anything."
"Not me," Joe said, backing away as McBoerland pushed the cell door open. "But, sir, has anyone told you your breath is enough to knock a guy down? I mean, I could smell you coming thirty feet away! Man, that is foul!"
"Piss on ya," McBoerland said, tossing two silver bags onto Joe's bunk. "I don't need your crap. Ranblon was supposed to have this shift but the turd has a damn hangover. So I get stuck with it. But I'm the guy who's sick. I hate this place! Always so damn cold and damp down here at the damn bottom–"
"Huh. I wonder if that's the cause," Jack said. "Your breath really is bad. To be completely honest, it's enough to make us puke."
"Crap on that! I ain't here to give a crap about what ya think! That's your grub there, ya better eat it. Ya get fed once a day–the first two days that is. As the Torture goes on, ya don't get fed none at all. I watched Hergs break a few guys in the Torture Room so I know what I'm talkin' about." McBoerland carefully backed out of the room, shifting his shattergun from side to side to cover them both. He shut the door and reached for the key in the box.
Jack pulled his sleeves back to expose bare arms to the biceps.
McBoerland turned the key and the amp field came on. Again Jack's forearm hairs stood on end.
"We said, your breath makes us want to puke all over the place!" Joe screamed.
–from The Martian Marauders, Book One of the Jack Commer, Supreme Commander series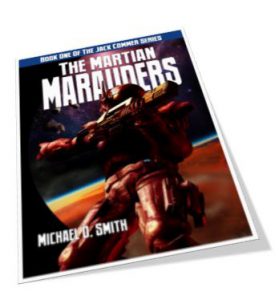 Okay, so McBoerland is a minor character in The Martian Marauders, in fact this is about all of him we see. But I still had fun with him, as well as with his drawing.  In Book One, a series of inexplicable solar system disasters in the near future, including exploding gas giants and asteroids hurled into the sun, forces a panicky acceleration of space technology and weaponry. But humanity hasn't learned much from Mars exploration and the discovery of Star Drive, and by 2033 the United System Space Force has not only wrecked the earth with the planet-destabilizing Xon bomb, but in evacuating the remnants of Earth's population to Mars, has also somehow overlooked an indigenous, intelligent race which is quite displeased by the arrival of two billion shellshocked humans. Amid family squabbles rising from the presence of four Commer brothers aboard his ship, Captain Jack Commer Jack finds himself battling Martian insurgents armed with shatterguns and telekinetic Amplified Thought.
copyright 2016 by Michael D. Smith